When home builders first started creating houses with garages back in the early 1900s, they did so to provide people with places to put their vehicles. More and more people were buying cars and trucks, and garages gave them a place to store them since street parking wasn't always an option.
But in recent years, surveys have found that more than one-third of people don't use their garages to park their cars. More often these days, they're utilizing their garages for storage.
Storage isn't the only reason not to put a car in your garage though. Many people are tackling garage renovation projects to find other ways to make the most of their garage spaces. If you would like to take this approach, you can remodel a garage and make it almost anything that you would like for it to be.
Before you renovate a garage, though, you should consider different options to maximize the use of the space. We've put together a list of things garage conversion ideas to get you started on your garage renovation journey!
Here are some ideas you can use for your garage renovation.
Turn Your Garage Into a DIY Workshop
According to a recent survey, the average American home has about nine DIY projects that are yet to be completed. At least part of the reason why people aren't always able to get these projects done is that they don't have enough available space to pull them off.
How about turning your garage into a DIY workshop where you can complete any DIY projects that you would like to work on? You can invest in different garage organization items that'll let you keep everything neat and organized as you work.
You could technically turn an unfinished garage into a DIY workshop if you want. But planning out your new workshop properly with the right combination or workspace and storage, and finishing the walls with paint and flooring that goes beyond a concrete slab (epoxy floors are great for garage workshops!) makes a huge difference in turning that space into a place you want to go to work.
A working plan for heating, cooling, proper insulation, and soundproofing will make all the difference in the world when it comes to year-round use of your new workshop.
Use Your Garage to Build a New Bedroom
If you want to get the most bang for your buck during your garage renovation, you might want to think about turning your garage into a bedroom. You may be able to increase the value of your home by $20,000 or more in many cases by doing this.
Transforming a garage into a new bedroom will require a relatively big investment, especially compared to some of the other options on this list. But it's also going to offer the best return on investment in most instances.
If your family is starting to outgrow your current home, creating a new bedroom could be just what you need to stay put for the foreseeable future. You'll be surprised by how much larger your home feels once you're done with your garage renovation.
Put a Pantry Extension in Your Garage
Inflation has caused the price of groceries to go through the roof over the last year. A great way to combat rising food and grocery prices is to get better prices by buying in bulk.
The primary reason most people don't buy in bulk is that they don't have adequate storage in their homes to buy in a quantity that provides a steep enough discount. You can only fit so much in your kitchen cabinets, and most kitchen pantries simply aren't designed to hold all that stuff you just brought home from Costco!
A creative way to get around this issue is by putting a pantry extension in your garage. Spending a little bit of money now to add the extra storage will pay off for years to come with what you'll save by buying in bulk and utilizing your new storage space.
Just be sure that you renovate a garage in the right way to prevent pests and rodents from gaining access to your groceries. The last thing that you want to do is invite them to come into your home and wreak havoc on everything you're keeping in your renovated garage space.
Create a Home Theater in Your Garage
Have you always dreamed about having your own home theater room? If you don't have something like a finished basement or a bonus room that you can turn into a home theater, your garage might be your next best option.
Planning for this kind of use gives you ample opportunity to soundproof your garage so that anyone can watch movies, sporting events, or play video games as loud as they would like without disturbing others in your home. Most garages offer plenty of space to design a great layout for your new home theatre!
Build a Playroom for Your Kids in Your Garage
Studies have suggested that the average child will receive more than $6,000 worth of toys throughout the course of their childhood. As you can imagine, these begin to pile up, and if you have more than one child, it can lead to your home being overrun by more toys than you can count.
One good way to keep these toys contained is by putting them all into one play area. If you haven't set up an area like this in your home yet, you might want to think about building a playroom for your kids in your garage.
To encourage your kids to actually use this playroom, it's a good idea to hire a professional who can help walk you through the process of designing an inviting space that is also safe and relatively damage resistant.
Bright colors and wall art go a long way to bring your new playroom to life, and will help turn this into a room that will bring your kids a lot of joy while enabling you to limit the number of toys cluttering up the rest of your house.
Even better, as your kids get older, it's easy to turn this room into a space that work well for teenagers, and eventually for yourself as your kids begin to move out of the house.
Add an Art Studio to Your Home in Your Garage
Are you someone who likes to spend your fair share of time working on art and/or crafting projects? If so, there is a good chance that you are either constantly taking out and putting away supplies, or you have a small dedicated space somewhere in the middle of your house.
What if there was a way to give you a space that you could use specifically for art and crafting projects that was large enough to enjoy and kept you from wasting time taking out and putting away supplies? Converting your garage into a crafting or art space is the perfect solution.
One of the best parts of using your garage for a creative space is that it means not worrying about getting paint on the brand-new couch, your white carpet, or those expensive hardwood floors. Or getting clay stuck in the bathroom or kitchen sink. You can set up a dedicated work area complete with resilient flooring, a utility sink, and all the storage you need to keep all your art supplies and work easily accessible when you want them and out of the way when you don't!
Put a Home Gym in Your Garage
Just about every year, there is a new report that reveals that the majority of Americans aren't getting the recommended amount of exercise. Likely even more often, there are new benefits discovered that can be directly linked to getting regular exercise. According to the CDC, being physically active can improve your brain health, help manage weight, reduce the risk of disease, strengthen bones and muscles, and improve your ability to do everyday activities.
If you're someone who struggles to work out regularly, you might be able to change that by giving yourself a place where you can exercise in peace without wasting time traveling to and from the gym. You can turn your garage into a home gym complete with everything from a treadmill to free weights so that you can get yourself into great shape.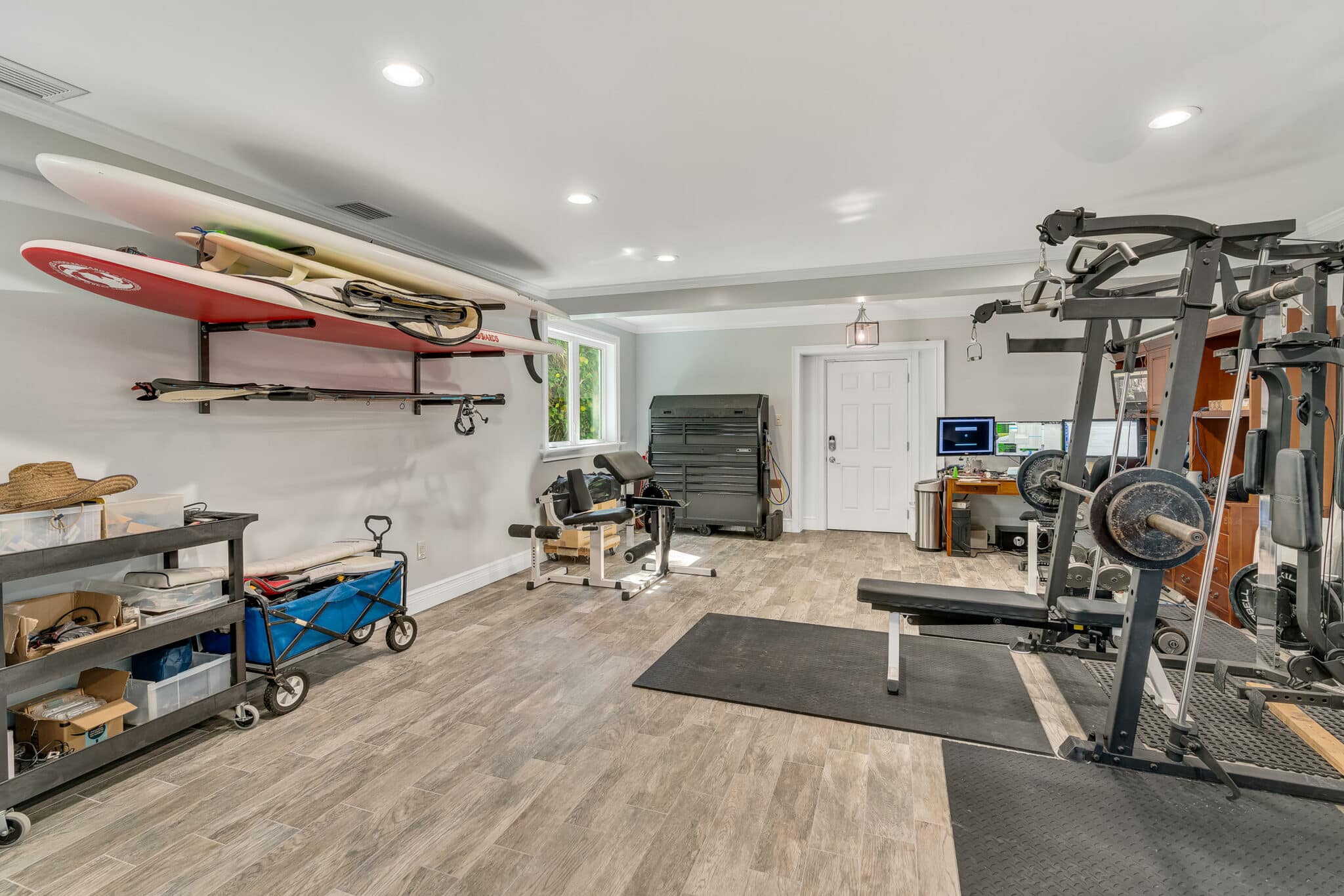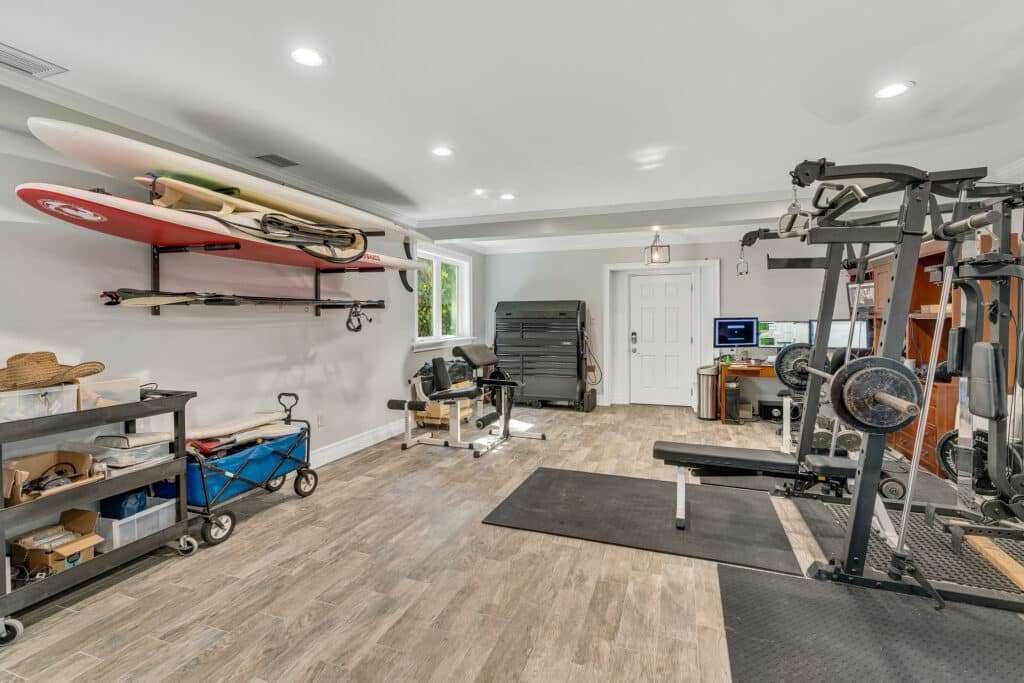 You might be able to get away with throwing these kinds of things into your garage as it is now. But if your garage is dark and always either too hot or too cold depending on the season, it might zap any motivation that you have to work out in it. And lets be honest, most of us need the fewest amount of potential excuses to keep us from exercising possible!
Instead, consider a purposeful garage renovation designed to turn it into a true, dedicated workout space. The right temperature, a strategically placed television, a nice stereo, a well-planned layout for the equipment you know you'll use, and a mini-fridge to keep your post-workout recovery snacks and drinks will go a long way to help motivate you to get out there every day!
Turn Your Garage into a Home Office
Thanks to the COVID-19 pandemic, there have been more people working from home than ever before. And it appears as though this trend is going to continue even though the pandemic is coming to a close.
If you've been working from home for quite some time now, you may have gotten away with working at your kitchen table or setting up a desk in your spare bedroom. But these aren't going to be great long-term solutions when it comes to your work-from-home setup.
Rather than trying to set up shop wherever you can in your home, you should put together a plan for a home office. You can create this home office in a spare bedroom or a finished basement if you want. But you should also put some thought into converting your garage into the home office of your dreams.
The best part about doing this is that you'll be able to work in a part of your house that will most likely be away from all the action going on in other parts. You might want to go as far as to soundproof the space so that you can work in peace without constantly being distracted by what's happening in the rest of your home.
You can even create a separate entrance to your home in your garage (other than the garage door) if you suspect that you might have customers or vendors visit from time-to-time. Your garage offers a lot of opportunities to create a unique and interesting workspace in your home that feels a lot more separated from your home life.
Create an Indoor Garden in Your Garage
There's not a very compelling reason to turn your garage into a garden just to keep plants in your garage. But if you're someone who enjoys gardening, converting your garage into an indoor garden can help you get plants growing before you take them outside and add them to your landscaping.
You can also do things like repotting plants and trimming plants in your garage space without it taking a toll on the rest of your home. You'll find that having a space like this will make you even more interested in plants than you were before, and cleanup is much easier when you can just sweep dirt and trimmings right out the garage door!
Another benefit is a dedicated, climate-controlled space where you can bring tropical plants in during a cold northern winter, allowing you to enjoy those plants summer after summer without the expense of replacing them.
It's just one more way in which you can transform a garage into a more usable space with a garage renovation.
A Garage Renovation Can Make Your Whole House More Functional
Has your home's garage turned into little more than just a place for you to put everything that doesn't fit inside your home? If so, it won't be long before it's packed to the gills with so much stuff that you can't even get into it anymore.
This happens whenever we have a space without a dedicated use. Ultimately all we do is accumulate things we don't need in a space that becomes less-and-less useful.
Instead of allowing this to happen, consider how you might be able to renovate your garage to add value to your home or bring more joy to your life. As you've seen here, there are tons of ways in which you can renovate your garage to make it more useful overall.
If you're on Long Island and considering a garage renovation, we'd be happy to discuss some options and help bring your ideas for it to life. Contact us now to get started.